11th September 2023
Lath Brushes and Strip Brushes Explained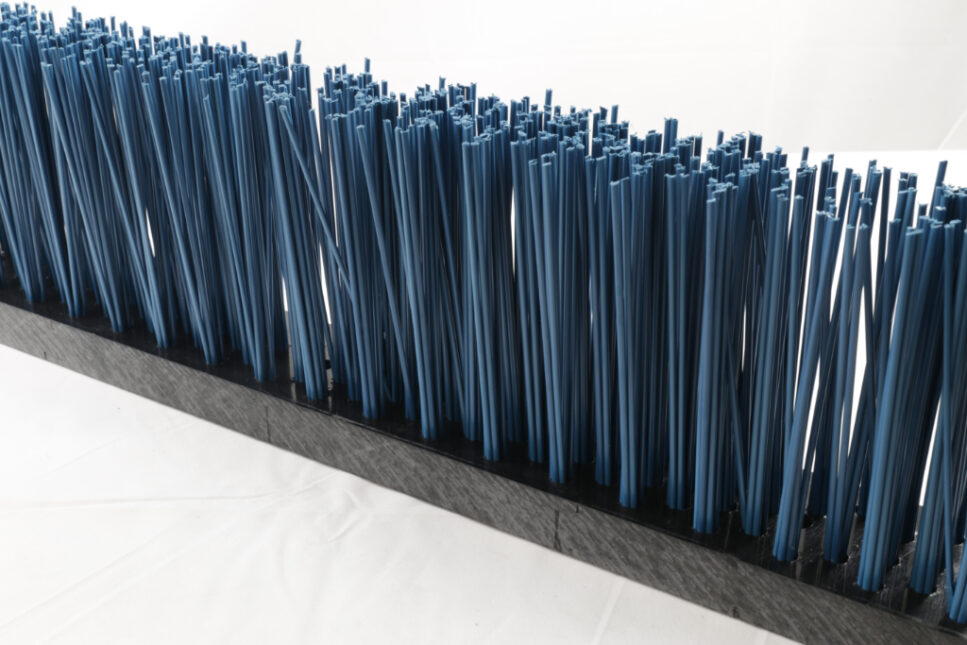 The terminology around brushes can often be opaque and confusing to customers, especially as many names seem interchangeable. This resource article shall provide some explanation and clarity as to what lath and strip brushes are, and the capabilities which Brushtec has when manufacturing them.
The definition of a lath brush at its simplest is a "brush which is rectangular", and beyond that basic definition there are very few constraints on it.
Alongside lath brushes, people may also refer to these types of brushes as strip brushes. Strip brushes traditionally referred to brushes which were manufactured by pressing and gluing the bristle together into a holder. Now-a-days however, the term strip brushes and lath brushes tends to be interchangeable.
What is a lath brush?
As a design concept, lath and strip brushes are almost limitless in their range of use and versatility and are able to be manufactured in a wide range of bristle diameters – ranging from the very soft, to those so stiff they are used in road sweepers. The brush backs used may be flexible, profiled, or standard rectangles and all still fall within the definition of lath and strip brushes.
We can manufacture lath and strip brushes to many different specifications and job requirements and have a wide experience in assisting customers to get the best performance out of their brushes.
For example, drag brushes and paddock sweeper brushes are applications for lath brushes, and we manufacture them to a high commercial finish for OEM and aftermarket spares. By manufacturing these lath brushes with long-life stiff bristle, high quality HDPE brush backs, and to a competitive price point our ground care brushes are attractive components to any end user.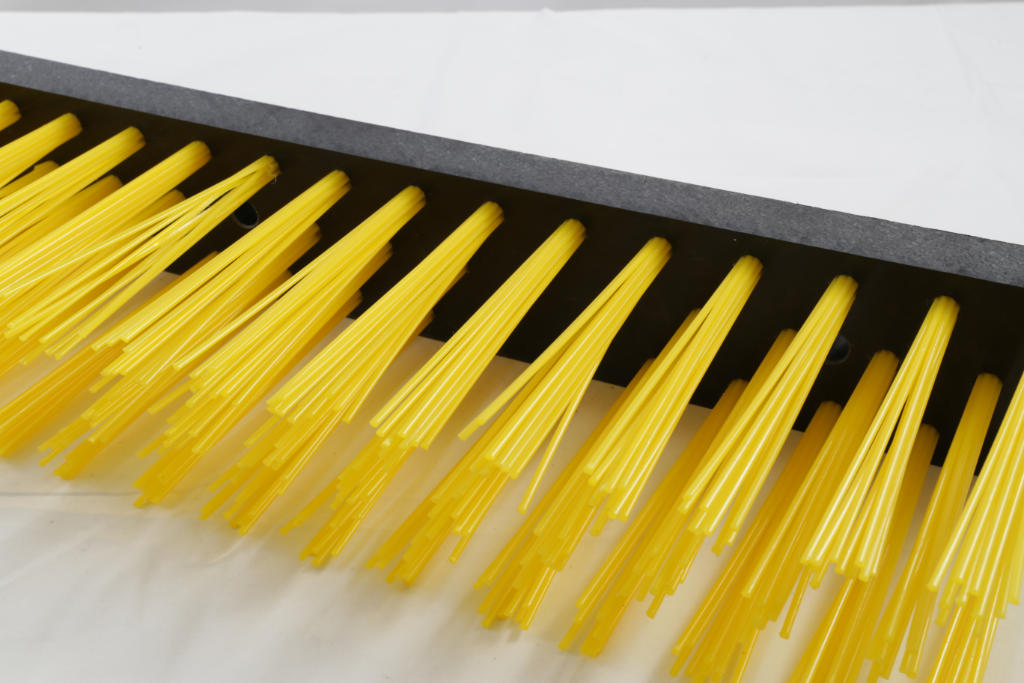 On the other end of the spectrum, lath and strip brushes can encompass very precise technical brushes which find their way into food and beverage production lines. These brushes may be cleaning conveyors or products to prevent contamination, or perhaps involved in the food production process, coating products or lubricating trays. Food production environments tend to be very unique in their requirements, and we can advise through the design and development stage to create the ideal brush.
Brush Backs: Standard and Profiled
Most lath brushes just require a standard flat back, and we stock a range of plastic sheeting which we can cut to size on site with our vertical panel saw.
To help provide all customers with an excellent product at a keen price we have also developed a range of off the shelf profiled brush backs.
These are stocked in three sizes, and each size allows for a diverse range of options for bristle tufting, and brush back mounting. These profiled brush backs are extruded HDPE, which provides the brush with excellent strength, UV resistance, and chemical resistance.
Brushes for Specific Conditions
Quite often customers will require that their brushes are suitable to work in an environment which have specific requirements and operating constraints. Most commonly this would come in the form of conforming to food grade standards, so that the brush does not contaminate any part of the foodstuff production process.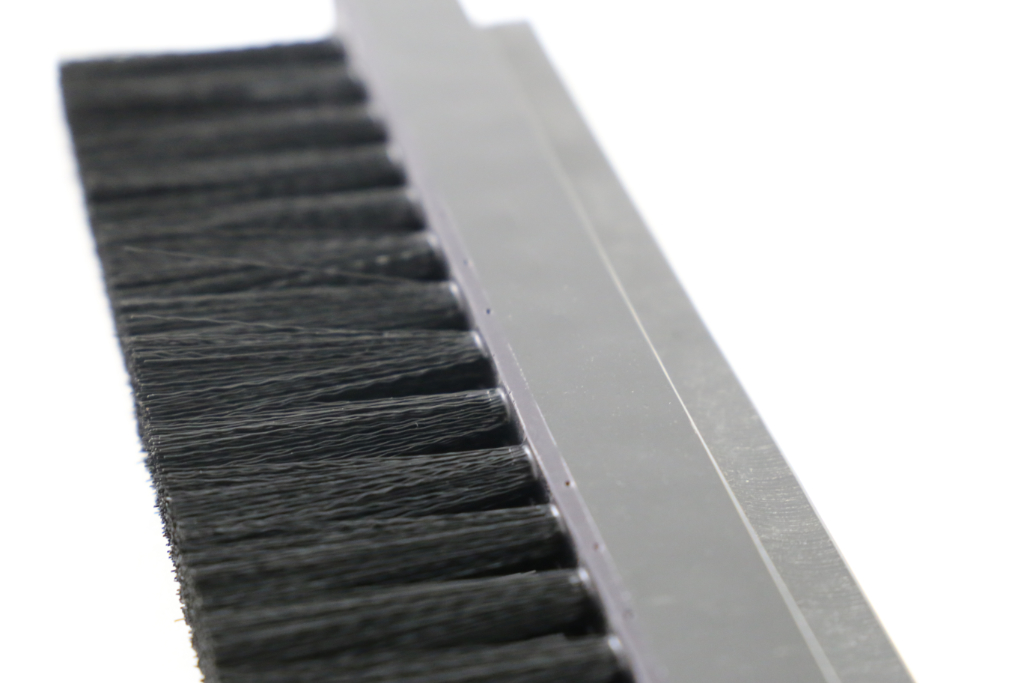 Brushes manufactured for these purposes may sometimes be resin set to conform with customers internal regulations.
Lath and strip brushes which generate no static upon brush surfaces are commonly manufactured for use in various industries. Small debris like flour, sugar, and dust can pose an explosion risk over time and so use of static free bristles helps mitigate this problem. Likewise, manufacturing sensitive electronics requires environments free of static so as to not damage any component.
There are some areas of use which unless the brush is designed and manufactured correctly for, will prematurely degrade and/or not operate at full performance.
Brushes operating in and around water need a correct grade of bristle which will not absorb and go soft. For salt water not only must the bristle be chosen correctly to retain stiffness, but the staple wire must be corrosion resistant as well, or the brush will quickly experience tuft loss; the same is true for brushes encountering wastewater and effluent.
Speciality Lath and Strip Brushes
Some customers' requirements for lath and strip brushes may require additional fabrication and handmade elements.
The brush on the left is a static-free brush mounted onto a frame with handles at either end.
On the right is a lath brush with a tuft pattern with different bristle heights.
On the left below is a brush to distribute lubricating oils through internal channels in the brush back and out through the bristles.
The brush on the right has an aluminium brush back, with hand tied static-free bristle tufts which are then resin set.
Contact Us
For more information please view our lath and strip brush page.
To contact us please follow this link.
To use our design your own lath and strip brush tool, please follow this link.
Off the Shelf Brushes
We keep a range of off the shelf brushes available for sale online. These brushes are designed to meet the needs of those who do not require a full production run of a bespoke design or are looking for a low cost solution.
To view this range, please visit:
Sweepertec
Whilst these brushes are very large, they are technically still lath brushes. Our Sweepertec range is a robust and simple to use yard broom, fitting onto forklifts, telehandlers, and other forked vehicles.
Available for purchase online at: