20th January 2023
One Piece Road Sweeper Cylinder Brush
Brush Technology Ltd are known innovators in the brush industry, having produced a full range of after-market brushes for road sweepers for over 25 years. Our brushes are designed with municipal authorities and road sweeping contractors in mind, providing improved designs and performance over OEM products; amongst these are our road sweeper cylinder brushes.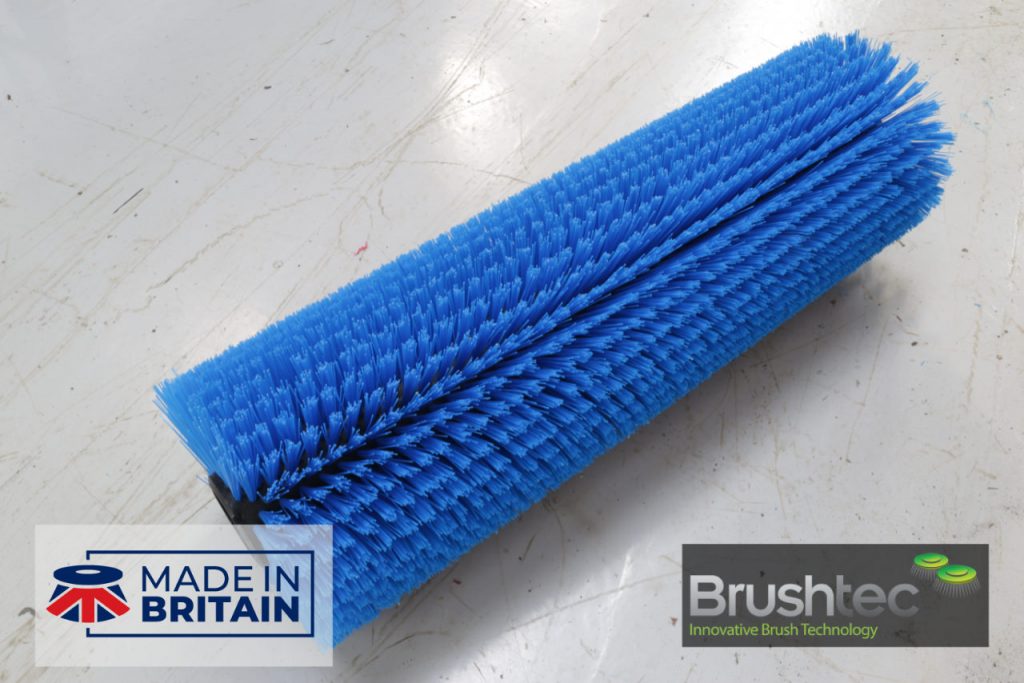 Innovative Road Sweeping Brushes
The one-piece cylinder brush (also known as a belly brush, centre brush, or a wide sweep brush) is now a staple of the UK road sweeping market. Brushtec were the first to bring this design of cylinder brush to the UK and Irish markets; and whilst others have followed in their own copies, we still have the edge on quality.
Once over the cylinder brush of a road sweeper was constructed onto a re-usable steel shaft, along which an alternating pattern of wafer rings and spacers were placed to create a brush. This meant that every time the ring brushes needed changing the operator would have to take apart the old dirty rings from the shaft, and then place the new ones back in the correct order.
Brushtec changed all of that process with the introduction of our one-piece cylinder brush. By injection moulding a high-density plastic tube and filling it with bristle, the one-piece cylinder brush is ready for use when it leaves our door. This means the sweeper operator need only place the one-piece cylinder brush onto the motor and remove the brush when worn down.
With no need for rebuilding as done with the older style ring brushes, a filthy job has now been eliminated; and a cylinder brush change over now only takes five minutes compared to the 45 it previously required with rings. Removing the steel shaft also reduced the number of breakable components on a road sweeper, reducing the risk of missing work time whilst waiting for parts.
Our video below shows a one-piece cylinder brush changeover on a Johnston Sweeper, clearly showing the time-saving benefits.
Cylinder Brushes for Road Planing and Heavy Construction Work
A further innovation of Brushtec's one-piece cylinder brush is our Blue Zebra cylinder brush, which is designed for moving large volumes of road planing. With a clever brush fill pattern and bristle choice, the Blue Zebra is perfectly designed to sweep up road planings, and larger heavier debris which may be found on construction and demolition sites with ease.
The Blue Zebra cylinder brush should be the absolute cylinder brush of choice for road sweeping operators who want to get the most performance out of their machines on these tougher jobs.
Our Blue Zebra cylinder brush is only made to fit Johnston Sweepers (Bucher Sweepers) and Stock Sweepers.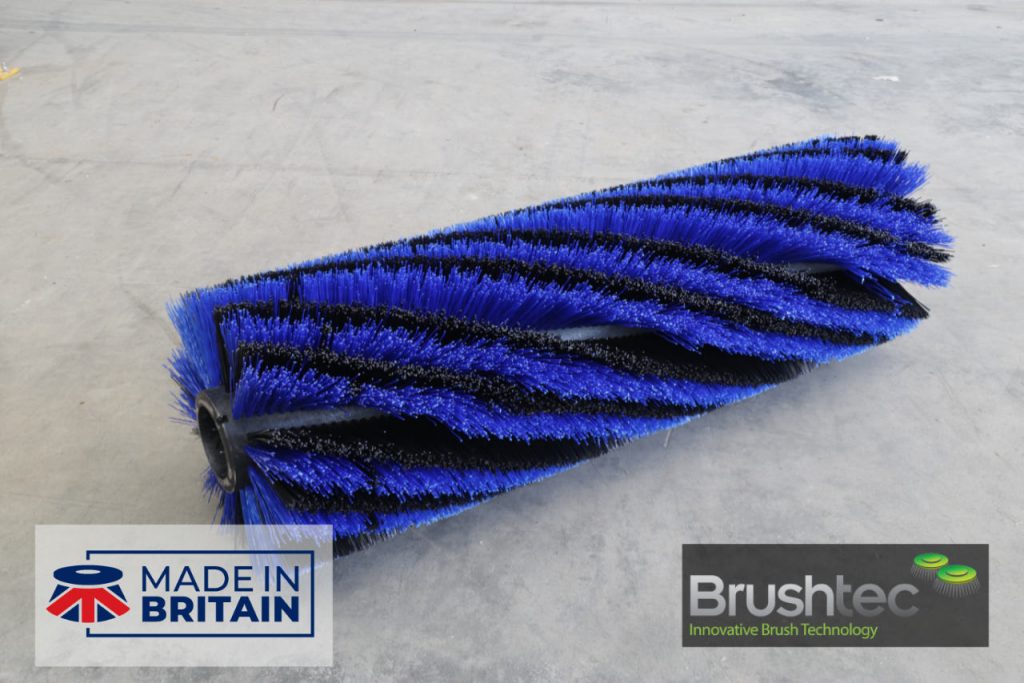 Road Sweeping Brushes Made in Britain
We are confident in saying that our cylinder brushes are the best on the market. Using high-quality materials such as extra-long-life bristles increase the performance value and life of our one-piece cylinder brushes – with trusted customers extolling that they get an extra two weeks over the wafers. Having seen the imported OEM brushes we know that their cylinder brushes are made to appear full of bristle but contain far less bristle than Brushtec cylinders, and the bristle is of much lower quality.
We also recognise that there is a demand for these brushes, and so to match and satisfy the trend for cheaper, imported, OEM brushware, Brushtec have introduced our economy range one-piece cylinder brush.
By using a percentage of recycled polymer in the bristles, and reducing the overall fill pattern of the brush we can bring down the cost to match those brushes which are imported into the country. More importantly our new budget cylinder brushes still outmatch the quality of those imported cylinder brushes, and so provide great value on both fronts.
Compatible Machine List for Road Sweeper Cylinder Brushes
Please view the list below to find out which machines we manufacture one-piece road sweeper cylinder brushes for:
Johnston Sweepers
Johnston VT650
Johnston VT801
Johnston VT500
Bucher Sweepers
Bucher V650
Bucher V801
Bucher V500
Stock Sweepers
Stock S6500
Stock s8400
Stock S9400
Scarab Sweepers
Scarab M6
Scarab M65T
Scarab Magnum
Scarab Mistral
Scarab Merlin
Scarab Minor
Schmidt Sweepers
Faun Sweepers
Dulevo Sweepers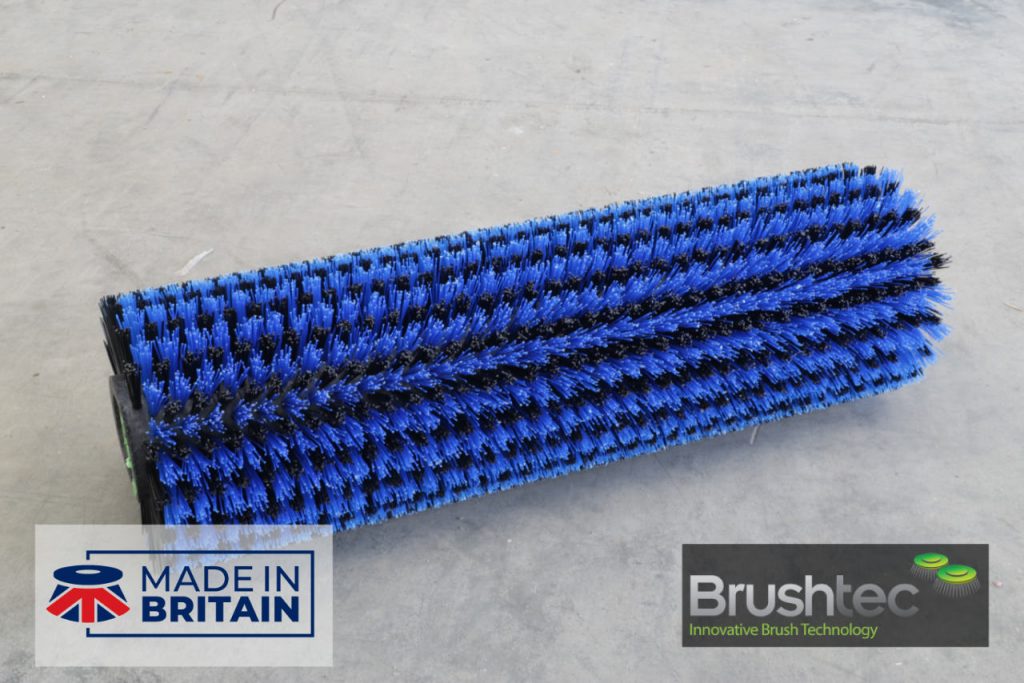 Common Names for Cylinder Brushes
As with all road sweeping brushes, a cylinder brush goes by many names; cylinder brushes, belly brushes, wide sweep brushes, centre brushes, and rotary brushes being the most common. All these names refer to the same part of a road sweeper, the cylindrical brush which sits beneath the chassis of the machine.
Contact Brushtec
If you would like any more information, or to purchase our road sweeping brushes then follow this link:
Brushtec also manufactures many brushes for applications outside of road sweeping such as:
View more of our resource articles:
Why not also view our range of off the shelf brushes.